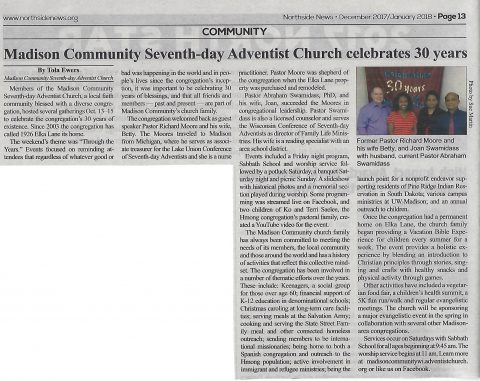 This was the Invitation:
30th Anniversary Celebration
Counting our blessings through the years
In the midst of all the current events happening throughout the world that have affected our brothers, sisters, families, and friends, we know that God is good and watches out for us every day and HIS mercies and blessings are never ending. Madison Community Church is a testimony to that through all our years of existence.  
October 13-15, 2017
Be our guest!
The Madison Community Seventh-day Adventist Church family is inviting you, all our past and present members and friends, to celebrate our 30th Anniversary and God's blessings through the years! 

Join us for a weekend filled with activities from Friday, October 13 to Sunday, October 15th.  
Friday, October 13:  Vespers and welcome - Starting at 6:30pm
Saturday, October 14:  Special Anniversary Sabbath Service begins at 9:45am
                                     Special guest – Pastor Richard Moore
                                     Potluck immediately following worship service
                                     Saturday, 6pm – Celebration Banquet
Sunday, October 15: Picnic at Token Creek Park - Reconnecting Social
                                  Starting at 11:30am.
Note: All activities except for Sunday will take place at the Madison Community Church at 1926 Elka Lane in Madison. 

We want to celebrate and reconnect with everyone who has been part of us since our inception!
We can't wait to see you!
In His Care and His Grace, 
Madison Community Seventh-day Adventist Church